So, you wanna buy tabs?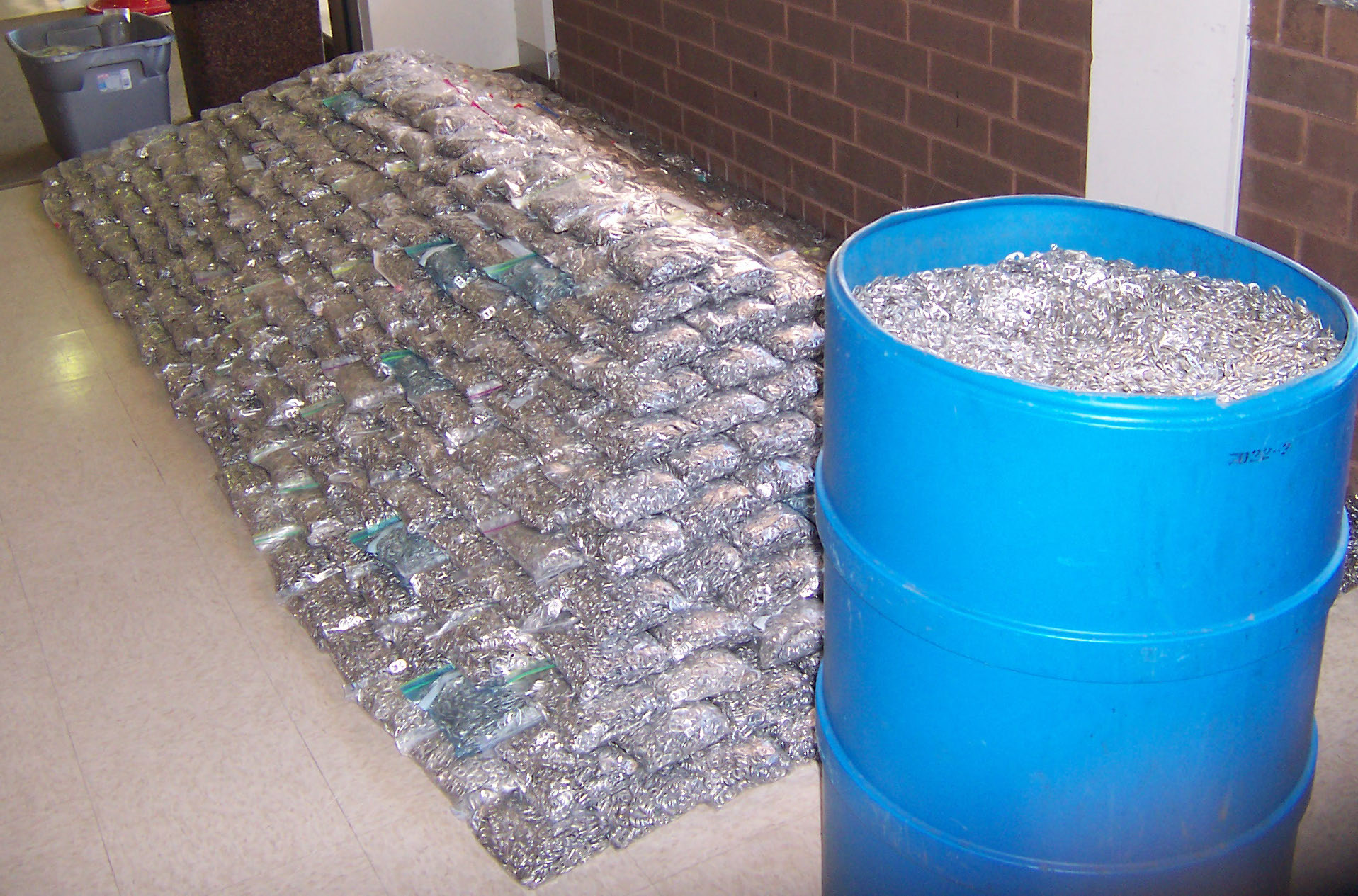 Home
One Gallon
Our Collection
Tab Trivia
The Aluminium Cathedral

One time offer, a MILLION tabs, I was contacted by a man who wanted a million tabs, I drew in from my supply lines and had 700 pounds sitting there in boxes waiting to be shipped, promises were made to the local McDonald's house, the local scouting organizations, and the homeless shelter that I work with...and then he backed out. So now I look stupid to everybody involved, and have 700 pounds of tabs in the way. A million tabs weighs 650 pounds, we went with 700 to allow for foreign matter, curlies, larger tabs, etc...so its between 1.02 and 1.05 million, lots of color, but unsorted. For $2,800 you can have the whole work's, sell em on E-bay, craft projects, donate them, I don't care. The only catch is you have to figure out how to get them from DesMoines, Iowa, you can pay to have them posted, freight, pick them up, or pay to have me deliver them, it's up to you.

If your interested, email me at tabtude1@gmail.com
I sell my tabs by zip lock baggies of 1,000 tabs each. These tabs have all been sorted so as to be the same size, shape design, color, and all damaged tabs have been removed (within the margins of human error) and donated to Ronald McDonald House Charities. These tabs are considered CRAFT GRADE. Itís very simple, $55 gets you 10,000 craft grade tabs shipped priority mail.
You can use this button right here to purchase tabs in quantities of 10, 20, or 30 thousand. Or if you need a different quantity, you may contact me at tabtude1@gmail.com .
These rates are for the United States ONLY, the reason being that it costs $61.75 to ship across the Ocean, I have been contacted by Germany, Canada, Italy, and the U.K., and yes, I will ship anywhere, but your looking at almost $100-120 to get them due to shipping, do not get mad at me, get mad at the Post Office.
People have questioned me on $55 for 10,000 tabs as being excessive, well watch $55.00 disappear fast. you PayPal me $55.00, PayPal takes $1.90, so now I am down to $53.10, then I have to ship them, which takes $12.35, so now I am down to $40.75, of which $10 is donated to McDonald's House Charities, $10 is donated to feeding the homeless, and $10 is donated to the Humanitarian Assembly. So the amount I actually receive is just $10.75, or so it would seem, because I still have to buy 10 Zip Lock bags at 6 cents each, now we are down to $10.15, yep, 84 minutes at minimum wage, and it takes me 6 hours to prepare it, so I am working for less than $1.69 an hour, from which I still have to pay for tape, lost orders, and deliver the tabs, and give away about 20% of the damaged tabs, not so pricey now is it?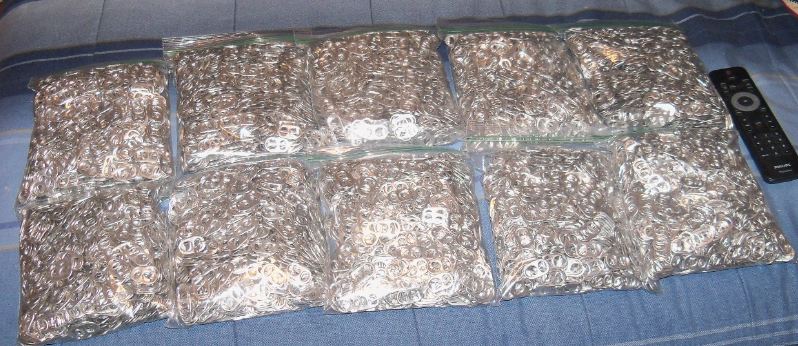 As more and more of my orders are coming from outside the United States ( I have now shipped to 39 nations on all 7 continents), I am now adding International shipping features. All of the prices listed INCLUDE SHIPPING. Just click on the drop down and choose from 10, 15, or 20 thousand. Larger orders, contact me, and I will see if shipping can be lowered.
PLEASE DO NOT ASK ABOUT COLORED TABS!!!!
I know some of you are looking for colored varities, but for me to go through literally millions of tabs looking for the colored ones is a night mare, if you want to take a chance, order POUNDAGE, what will happen is, instead of spending 6 hours pulling out 10,000 tabs, and de-curling them, and removing damaged tabs, I will just scoop out 10 pounds, pass the magnet over it, and ship as is. You might do better this way, as 10,000 tabs weighs 6.5 pounds, you will be getting an extra 50% in material, be saving me some time, and have a chance at getting colored ones.
Now, to give you an idea of what to expect, I grabbed a 10 pound box at random, and sorted out the 10,000 type I silver tabs in the above photo. As mentioned already, those tabs only weigh in at 6.5 pounds, so I then sorted out the remaining 3.5 pounds. And this is what was left over.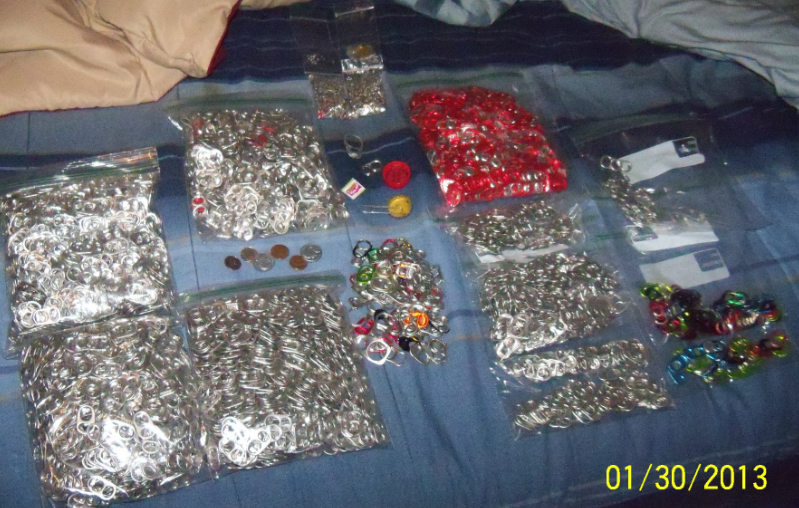 So when I say you can buy 10,000 tabs for $55, or 10 pounds for the same price, this picture is what you are giving up. It was an additional 3,060 type I silver, 45 type I clips, and 82 colored type I in 11 different colors, 397 type II's, including 1 green, 34 type III's in 4 different colors, 681 or the New budwieser red's, 41 monster tabs in 5 colors, all together, 15,157 tabs, 86 varieties. 668 tabs from the 10 pounds were damaged, leaving 1,429 craft grade colored tabs, or other varieties.
Other things I encountered were that 2,921 had to be de-curled (1.6 ounces), a bottle cap, a coke cap, a paper clip, 2 pieces of play money, a Betty Crocker coupon, 2 non aluminium tabs, and 22 cents. 9 pounds, 15.3 ounces of the box was aluminium, 9 pounds 11 ounces were craft grade.
Heres the neat part though, the colored tabs are of no use to me in my art project, so all those colored tabs just get tossed back into the box, meaning the concentration of future poundage just keeps getting higher. It took me 9 hours to do all of the work. Unlike my craft grade tabs, bulk tabs are as-is, no return, you could get 15,000 colored tabs, or 15,000 silver tabs, or any number in the middle, I have no idea what your getting because I just scooped and weighed. As stated, I have no use for the color tabs, so i am not picking them out in advance, and as I am holding the world record for donating tabs to McDonald's house charities, I am not seeding the bulk with my damaged tabs, your really getting unsearched bulk.
This is the internet, the world never sleeps, I could go out for coffee, and come back to find out 50 people have ordered a few million tabs in an hour, and over-run my supply lines. If that happens, I will ship orders in the order that they are paid for according to PayPal, I will then notify the rest of the people as to how long they can expect to wait, and if it is too long, issue a refund.


Create your own visitor map!